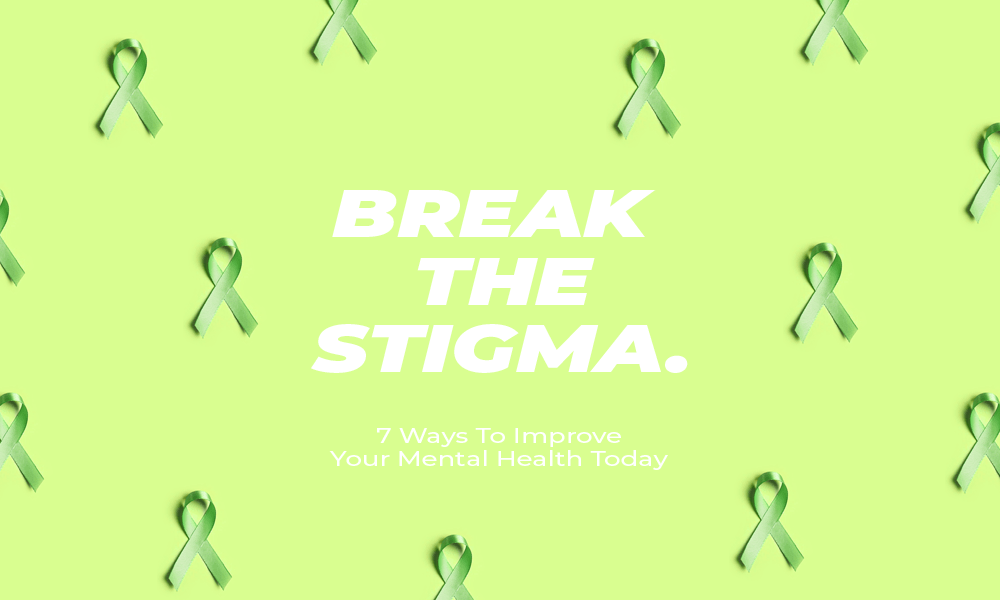 7 Ways To Improve Your Mental Health Today
This year's Mental Health Awareness Week 2020 (18th - 24th May) couldn't have come at a more poignant time, with the current pandemic situation having a huge impact on everyone's mental health.
Kindness is key now more than ever before, and with 1 in 4 people suffering from a mental health problem the time to act is now. Whether you've been feeling in a different mindset for quite some time, or you've noticed mental health issues are taking their toll on someone you love, there are lots of ways you can work towards tackling them.
Meditation 
Practising meditation every morning or evening can help to set you up, for a positive day or a peaceful night's rest. Meditation works by focusing on your breathing and concentration levels, to improve negative feelings and emotions of stress, depression or anxiety. Spending just 10 - 20 minutes mediating a day has been found to improve mind clarity, along with relaxation and inner peace, for a brighter outlook on the day ahead. 
Yoga
Taking part in yoga exercises can also help to have a beneficial effect on mental health. Yoga is great for increasing body awareness, relieving stress and muscle tension and sharpening attention and concentration. Combining yoga with meditation practice or yoga on it's own are great ways to calm and control your body's nervous system.
Phone A Friend 
A problem shared can sometimes be a problem solved, and while it's not the same for every problem it is good to talk. If you are struggling with trapped emotions or a cycle of dark days, try to confide in a close friend or family member who will be able to listen and offer you advice if you need it. Sometimes just offloading what's on your mind can make things feel a whole lot better afterwards. If you don't feel you have anyone you can confide in visit Mind for a list of charities who can offer support and confidential helpline information. 
Soak Up The Sunshine 
Vitamin D has been associated with playing an important part in boosting moods and mind frames for quite some time. Known as the sunshine vitamin, Vitamin D is vital to maintaining our physical and mental health. 10 - 30 minutes of sunshine a day has been linked to lifting our spirits, and with weather as good as it is right now, there's no reason why we can't take full advantage of everything the sun has to offer. Just remember to keep your SPF close by and apply frequently! 
Exercise 
While exercise may be the last thing on your mind when you're having a difficult time, it has been found to release endorphins which are known to trigger a positive effect in the body. Next time you're feeling low or trying to help someone you're worried about, why not suggest taking part in some exercise together, for a feel-good way to spend an hour of your day.
Eat Clean
Comfort food may seem like the easiest thing to reach for when you're not feeling yourself, but the implications that come with it aren't always the best way to tackle difficult days. Junk food has been linked to having a negative impact on mental health, due to the levels of high sugar and unhealthy fat found in junk food with no nutritional impact, which overtime can't provide the brain with enough of what it needs, ultimately affecting our mood and the way we feel. Try to ensure you are eating 5 different fruit or vegetables a day to maintain a good diet, homemade smoothies are a fun way to ensure you're getting the most out of your fruit and vegetables and best of all they taste amazing too!
Speak To Your GP 
If you have been feeling a noticeable difference in yourself, which is affecting your work, home life and social interactions everyday for more than 2 weeks, it may be time to speak to your GP about how you're feeling and how you can manage your symptoms. Write down a diary of how you have been feeling that you can talk your GP through on the phone or bring along with you to an appointment. Your GP will then be able to suggest a range of practices to help you, whether it may be breathing exercises, counselling, medication or support groups you can get in touch with.
Words: Stephanie Orr