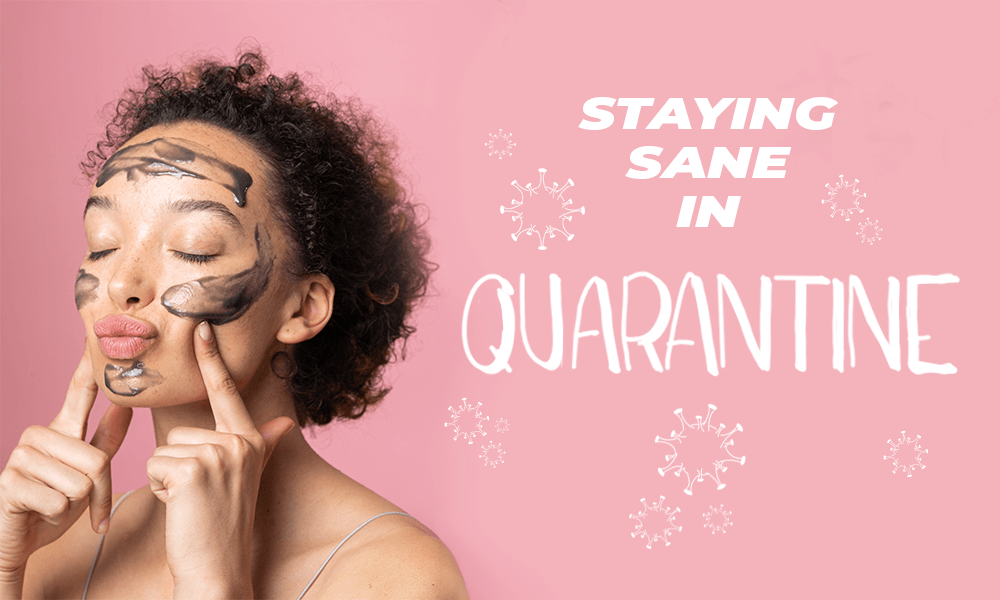 10 Tips To Help You Stay Sane In Quarantine
The way of working from studying to social interaction, has changed dramatically for many of us over the past week. With working from home being classed as the new norm, and self isolation taking a front seat over social interaction, amid Coronavirus fears.
If you're new to working from home or struggling to stay uplifted during self isolation quarantine mode, we've put together 10 tips to help you through this difficult time. 
Stick To Your Usual Work Routine
If you're not used to working from home on a regular basis, it can be difficult to get to grips with staying on track. Along with knowing how to create the perfect working environment in your home, where you can switch on when you need to and switch off easily at the end of your working day. 
Start the day by sticking to your normal working hours, while you may save time in your commute by travelling downstairs or into another room. It's still important to have a routine where you set your alarm, have breakfast, get dressed and apply skincare like any other normal working day. After all the last thing you need is to have a Skype call in your skimpy dressing gown to your boss!
Keeping up a routine will help you to engage your brain into a normal working pattern. Try setting a to-do list if you feel unmotivated, this will also help with your focus on track and ensure you keep up with deadlines. 
Check In With Other Members Of Your Team 
If you're a social butterfly at work, it can be hard to adapt to working without your work bestie close by, or going the whole day without a face-to-face interaction with the rest of your team. Work towards making this easier by setting up a work chat, where you have the right balance between discussing work targets, checking in, saying hello to each other and sharing funny memes to brighten up each other's day. 
Shampoo Free Challenge 
One of the best things about being in quarantine is that you can pretty much let everything go, hair included. Forget having to wash your hair 3 times a week, if you live on your own and are limiting social interaction, there really is no reason why you can't go shampoo free or take a break from your straighteners. Give yourself and your hair a break by leaving a hair mask in overnight, for an ultra hydrating conditioning treatment. 
Take Up A New Hobby 
Although being in quarantine is a hard reality to face, it's also a great time to take up a new hobby or work on a house project you've been meaning to tackle for a long time. Set yourself a new goal to spend time on, such as spring cleaning and clearing out your bedroom, or downloading a fun exercise routine from an app. 
Limit The Amount Of Time You Look At The News Each Day
Let's face it - the majority of news is negative at the moment and if it's all you're seeing when you pick up your phone or turn on the TV, it can easily take its toll on your mental health and anxiety levels. It's good to be aware of what's going on but if you find it's all you are thinking about, it may be time to limit the amount of news you are looking at each day. Try turning off news notifications where possible, and limit yourself to watching the news first thing in the morning and last thing at night for a healthier balance. 
Slather On Some Skincare
You can't beat the feeling of freshly exfoliated skin or the super soothing feeling of a sheet mask. With all this extra time on your hands during Coronavirus isolation, there really is no better time to provide your skin with the ultimate pampering. 
Start by cleansing your face to remove any impurities, followed by a gentle exfoliation, then apply a treatment such as a sheet mask. Try using a roller over the top of the sheet mask to ensure your skin soaks up all that extra hydration. If you don't fancy using a sheet mask or want to concentrate more on your under eye area, eye masks are just as good. Follow this up with using a toner to keep the PH balance of your skin under control, and last but not least don't forget to moisturise.
Reach Out To Elderly Neighbours
If you have elderly neighbours who live close by, try phoning them or putting a letter through their door to let them know you're thinking of them. If you are able to do any shopping for them that is also a bonus too. Helping someone who is vulnerable and changing their day in a positive way is a wonderful approach you can take to lifting both their spirit and yours.  
FaceTime Your Friends And Family 
Set a time to regularly FaceTime friends and family, to ensure you're still keeping up with social interaction, even if it's not on a face to face basis. Talking to friends and family about funny memories, future plans and how you're both feeling will help to lift your spirits along with theirs, which is incredibly important during the current uncertain times we are facing. 
Indulge In A Quarantini
If you're missing out on your Friday night drinks there really is no need to. Get creative and whip up your very own 'Quarantini.' Share the recipe on your group chat and set the challenge for your nearest and dearest to compare their creations, for the greatest Quarantini off of all. 
Look After Yourself 
Last but not least here at Vitamasques, we really want to highlight how important your health and safety means to us. Look after yourself and others, take government advice where possible and stay safe during these uncertain times. 
By Stephanie Orr